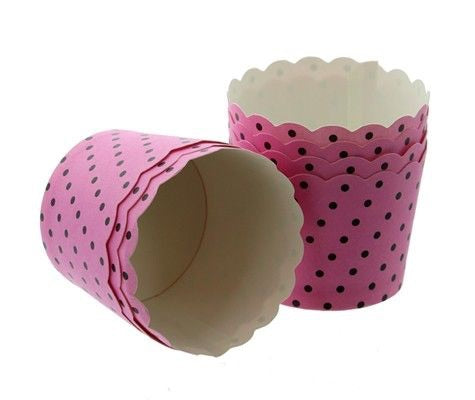 Paper Eskimo Baking Cups: Scalloped Pink with Black Polka Dots: Pack of 25
Sold Out
Striking scallop edged baking cups in various designs.


Pack of 25. 
Diameter: 5cm base, 6cm top, 4.5cm high.


Note: For best results, bake in a basic cupcake liner/tin and transfer to these for presentation purposes. However, as they have rigid sides and are liquid proof, you can actually pour mixture in and bake directly in the cups without the need for a cake tin, just placed on a baking sheet. Rigid sides and liquid proof which means they can be also used for sweets, jelly, ice cream and other puddings and snacks. 
These are special as Paper Eskimo cases are no longer available in the UK.