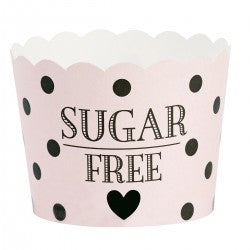 Baking Cups: Sugar Free - Pink Polka Dot - Miss Etoile - Pack of 24
What a great idea! Make your treats pretty and stay within the law! These brilliant baking cups are already marked 'Sugar Free' so save you having to specifically highlight treats for those with allergies or food intolerances. We also have Gluten Free cups.

Business owners: did you realise that you have to mark all unpackaged food for allergies and intolerances? More info here: https://www.food.gov.uk/business-industry/allergy-guide

Paper baking cups, 6cm diameter, 4.7cm high. Pack of 24.